started 1 september 2021.
We've started the Give Back Healthy Sanitation Campaign on the first of September 2021.
With your help, we can ensure that children in low loan country's are able to find and consume clean drinking water. With the wonderful result that they can develop themselves as a result.
Every year we support a different charity.
This year we chose Splash.org to give our support.
Give back healthy sanitation Campaign.
Splash is at the forefront of a growing movement to ensure that children in urban poverty have the resources they need to thrive and realize their full potential. We design child-focused water, sanitation, hygiene (WASH), and menstrual health solutions with governments in some of the world's biggest cities.
Splash now serves over six hundred thousand kids in eight countries in Asia and Africa. In 2017, we achieved a ten-year milestone of reaching every orphanage in China with water filtration systems, serving 1,100 orphanages across the country, while benefiting 190,000 children and adults. In addition, Splash projects have benefited 70% of the school children in Kathmandu, Nepal. Now, we are on track to ensure WASH coverage at 100% of schools in Kolkata, India, and Addis Ababa, Ethiopia, through our most ambitious initiative yet: Project WISE (WASH in Schools for Everyone).
Children
We focus on children because they are the most vulnerable to waterborne illness. Major threats to their health include malnutrition, stunting, and preventable diseases including diarrhea, typhoid, and cholera. Kids living in urban poverty regularly have no option but to drink unsafe water or use dirty toilets. The issue isn't technology; it's justice.
Urban
Given rapid population growth and urbanization, many governments already struggle to provide equitable WASH services to urban communities. As a result, children in slum and resource-poor neighborhoods significantly lag behind in health and education. The problem is growing worse by the day as 3 million people move into cities every week around the world. By 2050, 70% of the world will live in cities, and by 2030, 25% will live in urban slums.
Schools
Schools are everywhere, even in the poorest urban communities. Studies have shown that school WASH interventions have been associated with reductions in illness and diarrhea. Improving sanitation facilities in schools can especially benefit girls during menstruation and may increase their school attendance. Yet, a survey of 60 countries found that less than half of primary schools have access to safe water and just over a third have adequate sanitation.
What Splash is Doing:

Provide clean water for healthy kids.

Leverage commercial-grade water filtration systems.

Ensure water is safe and reliably flowing at all times.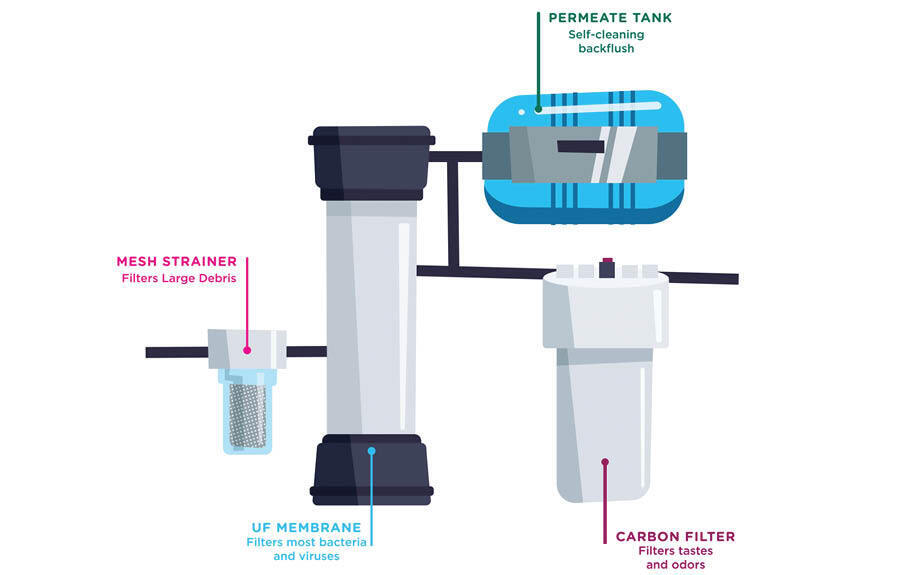 It All Starts with Clean Water
We deploy commercial ultra-filtration water systems manufactured by Antunes, a U.S. company serving multinational restaurant chains with factories in India and China. Antunes systems are the most durable, low-maintenance, and high flow rate systems we've ever seen. They remove 99.9999% of bacteria and viruses to ensure that water meets all WHO Guidelines for Drinking Water Quality.
Storage for the Flow-age
Clean, safe water is not enough in itself; it needs to be available whenever kids are present. We ensure there is sufficient water storage capacity by installing water storage systems so there is enough water for every person at the school, including students and staff.
Drink Up
Finally, we install our custom-designed drinking stations so kids can fill up bottles and drink directly from the bubblers whenever they need to. Many of our countries of operation face extreme challenges with water availability, so we install water-conserving taps that shut off after a few seconds of flow.
The Key to Sustainability
Splash ensures sustainability by training school staff on the operations and maintenance of the filtration system and providing an initial supply of spare parts. We provide technical assistance for two years after installation is complete and encourage schools to call us if they are having any problems. Splash provides water quality testing for four years after the installation is complete to make sure the water stays clean.
Clean Water Today & Beyond
We use the same technology and supply chains as world-class restaurants and hotels to make quality water possible for kids living in urban poverty. By optimizing our supply chain, we have improved the quality, consistency, and timeliness of our product delivery. With a proven model of impact and scale, clear evidence of efficient costs, and connection to robust local supply chains, we can ensure that governments and local businesses can adopt and fund the maintenance of Splash sites for the long term.
10% = going to These Children.
We feel obliged to give these children the same future as we enjoy it in the western world. That's why we contribute by giving the next generation the first basic need they deserve, CLEAN DRINKING WATER.
We donate 10% of every order to Splash's Project Wise (WASH in schools for EVERYONE)